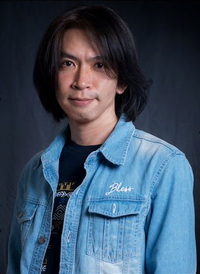 Daisuke Ishiwatari (石渡 太輔, Ishiwatari Daisuke?) is a South African-Japanese video game developer, illustrator, musician, composer and occasional voice actor. Best known for creating the Guilty Gear series, he is responsible for designing the characters and storyline, and composing most of its music.
History
Born in August 14, 1973, in Johannesburg, South Africa, Daisuke Ishiwatari conceived the original Guilty Gear before joining Arc System Works while he was in a vocational school.[1] After joining the company circa 1995, he revealed to the president he wanted to make a game in Street Fighter-likeness, which resulted in the first Guilty Gear[2] after a very long interval.[1]
Since then, he has become Chief Creative Officer for the company,[3] as well as a recurring composer. Ishiwatari is noted composing in the metal and rock genres, with his compositions featuring intricate guitar work and, as of late, vocals provided by Naoki Hashimoto from the band Outrage.
Credits
Virtual Open Tennis (1995) - Assistant designer
EXECTOR (1995) - Designer
Guilty Gear series (1998—present) - General director, designer, illustrator, composer, and Sol Badguy's battle voice (GG—GGXXΛC+R)
Sangokushi Taisen DS - Original Ba Tai designsource?
Dimension Zero (2005) - Card illustrationsource?
Battle Fantasia (2008) - Freed Velez's voice
BlazBlue series (2009—2017) - Main series composer
Hard Corps: Uprising (2011) - Designer, composer
Trivia
Queen is known to be his favorite band.
An often-peddled rumor is that Ishiwatari worked on the The Last Blade (due to a credit listing a "Daisuke"). However, The Last Blade was released in 1997 while Ishiwatari was already a designer at Arc System Works by 1995.[4]
In Library Mode, Ishiwatari is said to be the "King of Tea". According to the legends, by giving him some tea leaves and a tea pot, one will taste the best tea of ther lives. Unfortunately, Ishiwatari seems to be a coffee person, and takes it black.[5]
References
Community content is available under
CC-BY-SA
unless otherwise noted.