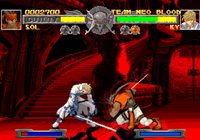 An Instant Kill (一撃必殺技, Ichigeki Hissatsu Waza?, lit. Single Blow Sure-Killing Art) is a type of special move, the character's ultimate attack, in the Guilty Gear series. As its name states, it will defeat the opponent instantly if it hits.
They are performed by entering Instant Kill Mode and then inputting the given character's correct attack command. If successful, the opponent will be "DESTROYED".
Overview
Instant Kills first appeared in the original Guilty Gear. In this game, defeating an opponent with an Instant Kill will end the match immediately, regardless of its round or the opponent's health. The player presses

+

as the Instant Killer starter attack. If it connects, the screen turns red for a few seconds, a state which is called "Sakkai" (殺界?, lit. "Killing Realm"). The move must then be completed with



+ any attack button (

or

or

or

). The defensive player can escape the Kill by reacting quickly and pressing


+ any attack button. An Instant Kill can also be activated by guarding attacks at the right moment.
In subsequent games, they are more difficult to perform, as Instant Kill Mode must be activated first by pressing

+

+

+

. Upon the activation, the Tension Gauge will change to the Instant Kill Gauge, at the same level as Tension was. It decreases with time, and any Tension-required move cannot be used (e.g. Overdrive Attacks, Force Breaks, etc.). When the Tension Meter is emptied, characters will gradually lose health. Killing oneself is not possible as some HP will be left, but the next hit or any chip damage will finish the character off. By pressing all four attack buttons again, one returns to an empty Tension Gauge state.
Unleashing an Instant Kill attack is generally done by pressing






+

, and it completely depletes the gauge. Regardless of success or failure, the Tension Gauge is lost for the rest of the round—that is, actions that require Tension cannot be used. The player will also be unable to perform another Instant Kill. It is worth noting that in GG Mode of all Guilty Gear XX titles, the original iteration of this mechanic returns in the form of the Sakkai state now being its own special move (localized as "Morbid World"), replacing the character's current Instant Kill.
Instant Kills so far in the Guilty Gear series do not appear in Guilty Gear Isuka, Guilty Gear 2 -Overture-, and Guilty Gear -Strive-.
Instant Kills
Trivia
Gallery